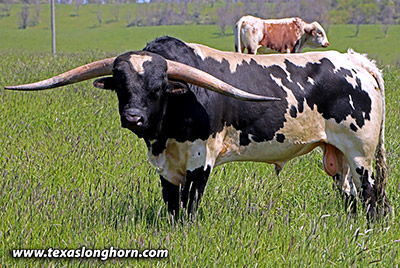 Reg.:
I-281828
DOB:
4/7/2017
Color:
B/W Pnl
Weight:
1480
(on 1/24/2020)
Horns:
78.0
(on 4/8/2020)
Macanudo Macanudo is one of many black base Saddlehorn sons produced at DCC. He is the first one to project superior horn to his sire. With careful evaluation Macanudo has the Fielder and Winchester conformation and the bold strong line bred Don Quixote black. His first calves will come soon. So far, it appears, he has more culture and a barrel of yogurt.
This is a presentation of a Dickinson Cattle Co. LLC Inventory Item. This presentation was printed on 8/13/2020. Prices are subject to change. Please check the current item price and description at
www.texaslonghorn.com/inventory
. Or contact your DCC sales representative.
Thank You for your interest!