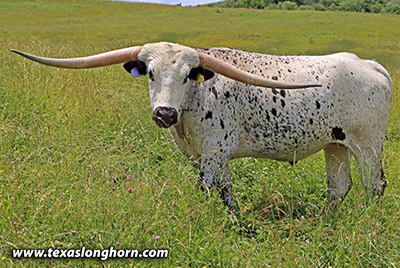 DOB:
6/23/2016
Color:
W/R spkld
Weight:
1376
(on 6/8/2020)
Horns:
82.75
(on 6/8/2020)
Attempter He is speckled as an ink fight in a one room school house. Full figured, in the right way. Big as the side of a barn. Tall enough to peep in a window without a bucket.
This is a presentation of a Dickinson Cattle Co. LLC Inventory Item. This presentation was printed on 8/13/2020. Prices are subject to change. Please check the current item price and description at
www.texaslonghorn.com/inventory
. Or contact your DCC sales representative.
Thank You for your interest!