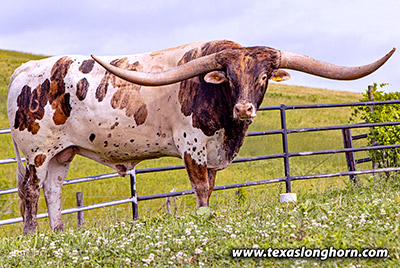 Reg.:
I-275089
DOB:
5/26/2016
Color:
R/W
Weight:
1678
(on 11/27/2019)
Horns:
88.88
(on 6/23/2020)
Drop Box Drop Box has the 2nd most horn of the Tuff sons at DCC in his age group. (just slightly under Cut'n Dried) His wonderful dam was ITLA All Age Champion Non Halter and in 2017 won the T2T Horn Showcase against all comers. Jam Packed is one of Jamakizm's many over 90" females. His data is right above the line with Beast and 3" above Clear Point. A true genetic forward move. Not just horn, but great dark brindle spotted and beef size. Triple Bronze winner, 2018 Horn Showcase. T2T 88.25"
This is a presentation of a Dickinson Cattle Co. LLC Inventory Item. This presentation was printed on 8/13/2020. Prices are subject to change. Please check the current item price and description at
www.texaslonghorn.com/inventory
. Or contact your DCC sales representative.
Thank You for your interest!