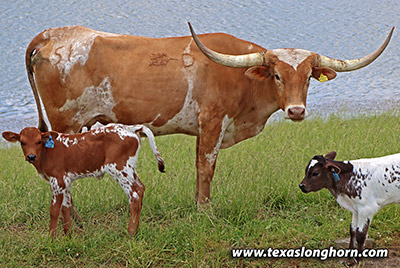 Reg.:
I-275257
DOB:
5/25/2016
Color:
R/W pnt
Weight:
1114
(on 6/24/2020)
Horns:
58.5
(on 6/24/2020)
Service Sire:
Elfego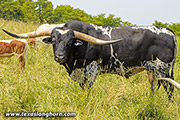 Price:
$3400

Reckon Line This bronze pinto is one of the tallest cows her age. She is a Jack Phillips "high water" cow. She is a double bred Drag Iron. Many cattle pictured in magazines have lost the long leg conformation which is historic Longhorn type - Not Her! Heifer at side born 5-23-20 by Spokesman. Guaranteed negative of Chinese corona flu. Service sire: Elfego.
This is a presentation of a Dickinson Cattle Co. LLC Inventory Item. This presentation was printed on 8/10/2020. Prices are subject to change. Please check the current item price and description at
www.texaslonghorn.com/inventory
. Or contact your DCC sales representative.
Thank You for your interest!