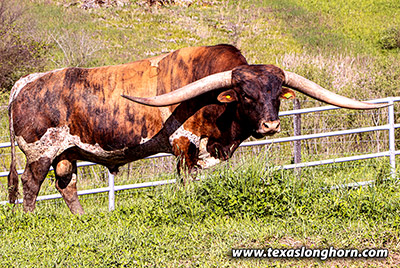 Reg.:
I-275090
DOB:
4/27/2016
Color:
R/W Brindle
Weight:
2202
(on 6/8/2020)
Horns:
93.13
(on 6/8/2020)
Cut'n Dried This shocking "Tuff" son is out of the greatest producing daughter of Drag Iron and Field of Pearls. His 1645 lb dam is strong enough to up-breed smaller genetics. The new frontier is great TL genetics with rapid size and gain. Dragon Pearl is the dam of 3 over 80" sons. CD is thick, deep, with lots of structure and base. T2T 93.13". Incomparable data. Check it out? Some may have more horn, but thickness and size -- not a chance. Professional grade genetics.
This is a presentation of a Dickinson Cattle Co. LLC Inventory Item. This presentation was printed on 8/13/2020. Prices are subject to change. Please check the current item price and description at
www.texaslonghorn.com/inventory
. Or contact your DCC sales representative.
Thank You for your interest!