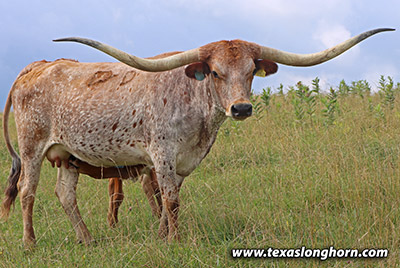 Reg.:
I-274977
DOB:
4/26/2016
Color:
W/R spk
Weight:
1040
(on 6/2/2021)
Horns:
84.63
(on 6/2/2021)
Service Sire:
Jamakizm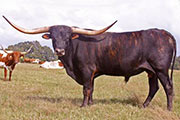 Price:
$36,000

Contested All the color of a Drag Iron roan. Hons 84.63" at age 5 and projected to pop over 100" at maturity. No Drag Iron daughter of this quality has ever been offered for sale. Bull calf born 4-3-21 by Stop Already. She proudly sports 8 shades of tri color roan. AI bred to Jamakizm 6-29-21. Later natural went with Point Mark 7-13-21.
This is a presentation of a Dickinson Cattle Co. LLC Inventory Item. This presentation was printed on 9/22/2021. Prices are subject to change. Please check the current item price and description at
www.texaslonghorn.com/inventory
. Or contact your DCC sales representative.
Thank You for your interest!