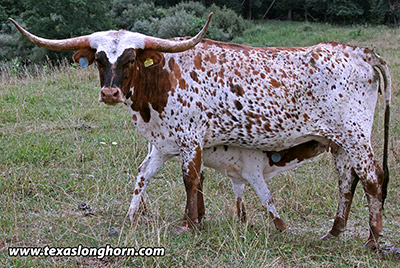 DOB:
6/9/2016
Color:
R/W spkld
Weight:
928
(on 6/12/2018)
Horns:
51.88
(on 11/20/2018)
Service Sire:
Cut'N Dried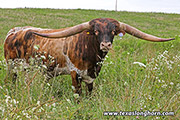 Price:
$4100
Sorry, already Sold
SWxOK

Drag A Wheel She is brindle as an alley cat, young and more confidence than an uncaptured bandito. Starting rapid bureaucrat twist shape. Don't accept substitutions. Drag Iron cows are the greatest income property in the TL industry. Preg check pos to Cut'n Dried (see reference sires) Johne's test neg. Do you know where your pit-bull was last night?
This is a presentation of a Dickinson Cattle Co. LLC Inventory Item. This presentation was printed on 8/17/2019. Prices are subject to change. Please check the current item price and description at
www.texaslonghorn.com/inventory
. Or contact your DCC sales representative.
Thank You for your interest!