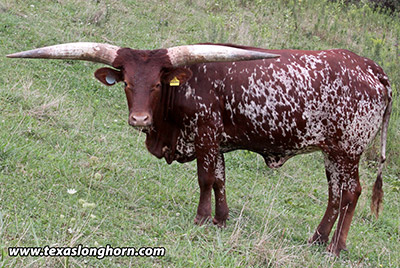 DOB:
7/7/2015
Color:
Drk R/W sp
Weight:
1040
(on 11/16/2018)
Horns:
71.5
(on 6/7/2019)
Service Sire:
Titan Wolf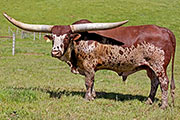 Price:
$2800
Sorry, already Sold
RSxOH

Kigoma She is 3/4 Watusi of the highest quality lineage and 1/4 Texas Longhorn. She will brighten a pasture. Although elgible to register at a 3/4 WWA Watusi, sells unregistered. Preg check pos to Titan Wolf (horns wide enough to reach two counties) Test neg Johne's.
This is a presentation of a Dickinson Cattle Co. LLC Inventory Item. This presentation was printed on 8/17/2019. Prices are subject to change. Please check the current item price and description at
www.texaslonghorn.com/inventory
. Or contact your DCC sales representative.
Thank You for your interest!