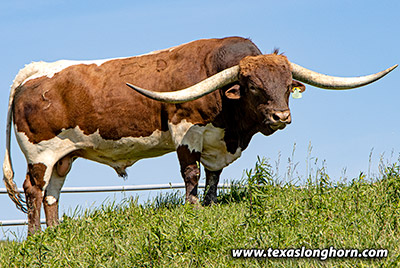 Reg.:
I-275698
DOB:
4/26/2015
Color:
R/W pnl
Weight:
2065
(on 6/21/2019)
Horns:
87.25
(on 6/8/2020)
Time Line is the second of 3 outstanding over 80" T2T Dragon Pearl sons. Many believe he will have the most horn and weight of any Rio son. His T2T currently is 87.25" at age 5, and weighs in at 2065 on 6-6-19. He has inherited the best blend with Rio, which is Drag Iron. Cows say he has a cold nose - he says it is the ring -- not a problem. Dragon Pearl is the only cow with 3 natural sons born one year apart, age 4, 3, and 2 with over 80" T2T and growing.
This is a presentation of a Dickinson Cattle Co. LLC Inventory Item. This presentation was printed on 8/13/2020. Prices are subject to change. Please check the current item price and description at
www.texaslonghorn.com/inventory
. Or contact your DCC sales representative.
Thank You for your interest!