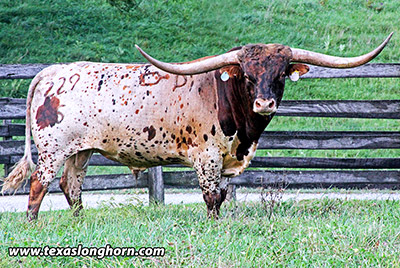 Reg.:
I-272345
DOB:
4/24/2015
Color:
Brnd Sptd
Weight:
836
(on 11/14/2016)
Horns:
81.5
(on 8/8/2020)
Tuxedo Tuxedo is a son of world record Cowboy Tuff Chex (100+" T2T) out of Sweet Jubilee a clone of the late Shadow Jubilee (91" T2T). He is a full brother to the Roger & Debbie Witham $47,000 heifer. His sire and dam line are two of the most famous ever. Semen qualified for most export countries. Inventory available in NZ & Australia. He was the leading volume sales in TL semen in Australia for 2018. Don't accept overly promoted imitations when the real thing is here, young, gentle, brindle, trim and tall.
This is a presentation of a Dickinson Cattle Co. LLC Inventory Item. This presentation was printed on 9/21/2021. Prices are subject to change. Please check the current item price and description at
www.texaslonghorn.com/inventory
. Or contact your DCC sales representative.
Thank You for your interest!