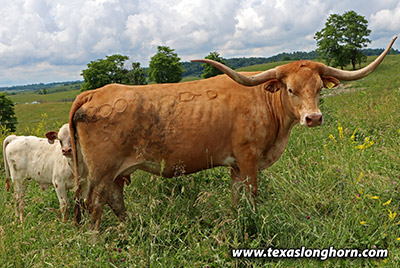 Reg.:
I-272129
DOB:
4/19/2015
Color:
Red
Weight:
1182
(on 6/12/2020)
Horns:
63.5
(on 6/12/2020)
Service Sire:
Drop Box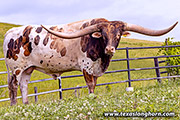 Price:
$2900

Nice Work She is gold as the Vatican's vault. She is a full sister to Trip Wire. She has the muscle look of Clear Win and a little Pinzgauer face without Pinzgauer. No ancestors have ever gone through a TL auction -- that means the owners wanted to keep them. Bull calf born 4-17-20 by Tibbs. Notice the twist and just age 5. Service sire: Drop Box.
This is a presentation of a Dickinson Cattle Co. LLC Inventory Item. This presentation was printed on 8/10/2020. Prices are subject to change. Please check the current item price and description at
www.texaslonghorn.com/inventory
. Or contact your DCC sales representative.
Thank You for your interest!