Reg.:
I-271773
DOB:
4/6/2015
Color:
W/R Spk
Weight:
1222
(on 6/14/2021)
Horns:
77.13
(on 6/14/2021)
Service Sire:
Cut'N Dried by AI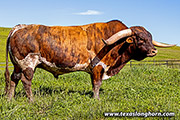 Price:
$31,000

Drag Shy This one-owner Drag Iron daughter has never been priced before. Full sister to $31,000 Shy Iron. She is everything you want a great cow to be. Bull calf at side by Cut'n Dried born 5-3-21. AI bred 6-21-21 to Cut'n Dried. Went Drop Box natural service on 7-26-21 after passing over to AI.
This is a presentation of a Dickinson Cattle Co. LLC Inventory Item. This presentation was printed on 9/22/2021. Prices are subject to change. Please check the current item price and description at
www.texaslonghorn.com/inventory
. Or contact your DCC sales representative.
Thank You for your interest!