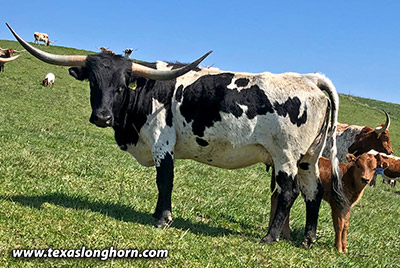 Reg.:
I-271990
DOB:
4/3/2015
Color:
B/W
Weight:
952
(on 6/11/2020)
Horns:
62.0
(on 6/11/2020)
Service Sire:
Iron Span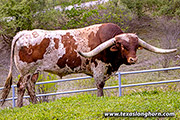 Price:
$3900
Sorry, already Sold
JSxOH

Killing Cowboys One of the few black-base Tuff daughters. She gets black from Over Kill and extra thickness from Senator. She has raised 4 calves in 4 years. She has the Tuff leg. Drag Iron bull calf at side born 4-1-20 that probably will brindle. She looks pretty, even with a corona mask over your eyes. Service sire: Iron Span.
This is a presentation of a Dickinson Cattle Co. LLC Inventory Item. This presentation was printed on 8/13/2020. Prices are subject to change. Please check the current item price and description at
www.texaslonghorn.com/inventory
. Or contact your DCC sales representative.
Thank You for your interest!