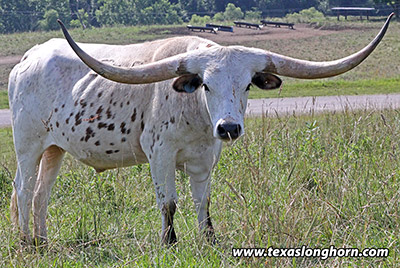 DOB:
4/1/2015
Color:
4-1-15
Weight:
1110
(on 11/13/2017)
Horns:
81.0
(on 11/8/2018)
Bell Point This is the first generation of steers by Clear Point (T2T 91 1/8") . The data could blow the roof off. Guaranteed to grow horn while he sleeps. Measured 75.5" T2T on 5-31-18. That is the thin air data. Not guaranteed fertile. Does not give milk in the Spring.
This is a presentation of a Dickinson Cattle Co. LLC Inventory Item. This presentation was printed on 4/19/2019. Prices are subject to change. Please check the current item price and description at
www.texaslonghorn.com/inventory
. Or contact your DCC sales representative.
Thank You for your interest!