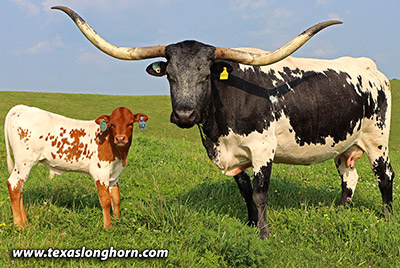 Reg.:
T-1240500
DOB:
4/15/2006
Color:
Bk/W
Weight:
1218
(on 6/22/2021)
Horns:
74.75
(on 6/22/2021)
Service Sire:
Point Mark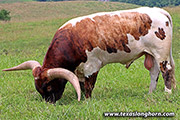 Price:
$3100

Bogia Bogia is Terry King breeding, famous for futurity championship total conformation. She raised a huge Clear Point black heifer last year. She is dazzling decor in a pasture. Bull calf born 6-4-21. People spot this pretty cow and never fail to ask about her. She brightens the pasture. Recommended for a cowhand who handles rough stock with a smile. Calf does not have an ear tag.
This is a presentation of a Dickinson Cattle Co. LLC Inventory Item. This presentation was printed on 9/22/2021. Prices are subject to change. Please check the current item price and description at
www.texaslonghorn.com/inventory
. Or contact your DCC sales representative.
Thank You for your interest!