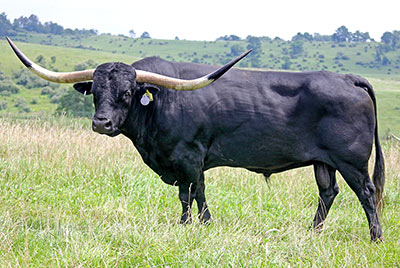 Reg.:
I-268950
DOB:
9/26/2007
Color:
Black
Weight:
1590
(on 10/18/2018)
Horns:
82.38
(on 10/12/2018)
Jet Black Chex Jet Black Chex is a very different Rio Grande son, and blacker than a skunk's arm pit. He is 82" T2T, a straight trim profile, pretty head and nice lateral sweeping twist horn shape. For those who love black and need an out cross to Over Kill or Over Head, here he is. He is believed to be the widest horned all black bull in the industry. Use him to reduce white, darken dish water colors and for correct show conformation. DCCI has used him for 4 years and now sold to Barbara Franklin Schmidt.
This is a presentation of a Dickinson Cattle Co. LLC Inventory Item. This presentation was printed on 8/13/2020. Prices are subject to change. Please check the current item price and description at
www.texaslonghorn.com/inventory
. Or contact your DCC sales representative.
Thank You for your interest!