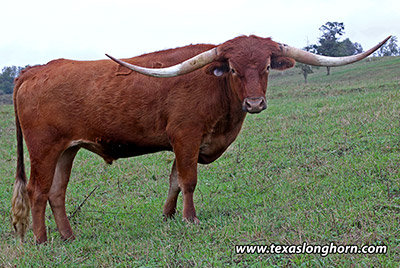 DOB:
4/17/2014
Color:
Red
Weight:
1724
(on 6/8/2020)
Horns:
94.88
(on 6/8/2020)
Slight of Hand Slight has more horn than any 1880s vintage steer who ever went up the trails. Great data. T2T on 11-9-19 is 93 1/8". Nothing worse than the ride home saying, "I wish I had bought him." How many age 5 steers of any breed have over 7' horns T2T - not many! He is taller than a saddle horse.
This is a presentation of a Dickinson Cattle Co. LLC Inventory Item. This presentation was printed on 8/13/2020. Prices are subject to change. Please check the current item price and description at
www.texaslonghorn.com/inventory
. Or contact your DCC sales representative.
Thank You for your interest!