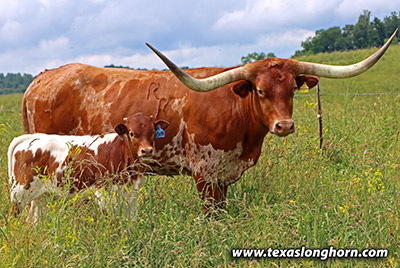 DOB:
4/16/2014
Color:
R/W
Weight:
1086
(on 6/11/2020)
Horns:
65.5
(on 6/11/2020)
Service Sire:
Drop Box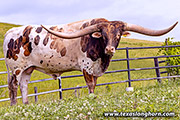 Price:
$3,100
Sorry, already Sold
JLxMT

Ro Ann This attractive Annex daughter was featured on the back cover of the 2019 Celebrity Calendar, and what a beautiful pair they were. Notice the carefully planned matings of her pedigree. Her dam is a half sister to famous Jamakizm. This is solid stand-on-the-bucket, look-in-the-window worth-it genetics. Time Line pretty spotted heifer born 4-3-20. Service Sire: Drop Box.
This is a presentation of a Dickinson Cattle Co. LLC Inventory Item. This presentation was printed on 8/13/2020. Prices are subject to change. Please check the current item price and description at
www.texaslonghorn.com/inventory
. Or contact your DCC sales representative.
Thank You for your interest!