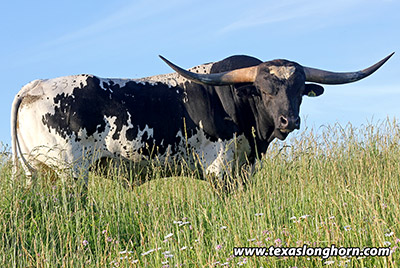 Reg.:
I-269135
DOB:
4/7/2014
Color:
B/W
Weight:
1880
(on 4/25/2019)
Horns:
73.63
(on 4/25/2019)
Non Stop Non Stop is the last Over Kill natural son to be used by DCCI. He is genetically blessed and data so good that he brings tears to your eyes. His T2T is 6.5 inches over his 80 inch sire at the same age. He is top and bottom twisty horns. See his first beautifully colored calves under progeny below. DCC is pleased to offer semen on this Over Kill look alike. His progeny are winning shows and futurities all over.
This is a presentation of a Dickinson Cattle Co. LLC Inventory Item. This presentation was printed on 8/13/2020. Prices are subject to change. Please check the current item price and description at
www.texaslonghorn.com/inventory
. Or contact your DCC sales representative.
Thank You for your interest!