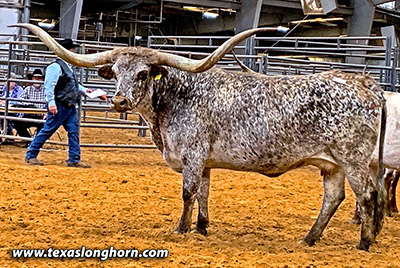 Reg.:
I-269127
DOB:
4/6/2014
Color:
W/R
Weight:
1420
(on 11/10/2020)
Horns:
92.13
(on 6/2/2021)
Iron On Iron On has been International Grand Champion All Age Female at the ITLA Champion show in 2020 and 2018. She is undefeated in every show. She is so close to the perfect cow strived-for at DCC, it is the long term hope to have a pasture full of this exact type. You will see a lot of her young progeny. As a flush cow she has progeny in Austria and The Czech Republic.
This is a presentation of a Dickinson Cattle Co. LLC Inventory Item. This presentation was printed on 9/22/2021. Prices are subject to change. Please check the current item price and description at
www.texaslonghorn.com/inventory
. Or contact your DCC sales representative.
Thank You for your interest!