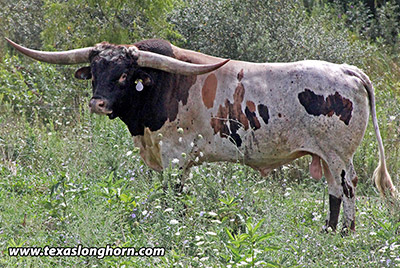 Reg.:
I-269121
DOB:
4/5/2014
Color:
W/R HD
Weight:
1986
(on 10/22/2018)
Horns:
80.0
(on 10/22/2018)
Reckon So The first Cowboy Tuff Chex son to be serviced at DCC. He is big, thick, sleepy and bred high as a woodpecker's nest in the redwood forest. His dam was a triple horn champion in 2013. Many who saw him win two Winchester Futurities say he is the best Tuff ($165.000) son. A big thank you to those who are flushing to RS. He is thick -- and sires the tallest calves at DCC. This is not pygmy, old TL genetics. Now owned by Jacob DeViers.
This is a presentation of a Dickinson Cattle Co. LLC Inventory Item. This presentation was printed on 8/13/2020. Prices are subject to change. Please check the current item price and description at
www.texaslonghorn.com/inventory
. Or contact your DCC sales representative.
Thank You for your interest!