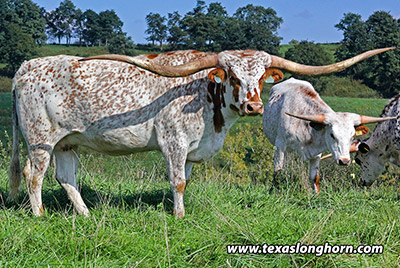 Reg.:
I-266100
DOB:
5/5/2013
Color:
W/R
Weight:
1308
(on 6/15/2020)
Horns:
105.0
(on 6/15/2020)
Silent Iron Silent Iron - a sweet age 6 Drag Iron daughter who is nearing 102" T2T. She is 16 times line bred to the great foundation cow Measles and shows those very same brilliant speckled qualities. Her genetics will be found in the DCC herd for a long time. Double Horn Showcase Bronze Champion as a 4 year old. Widest horned age 5 female at 98" Horn Showcase Champion 2018. Four times Horn Champion.
This is a presentation of a Dickinson Cattle Co. LLC Inventory Item. This presentation was printed on 8/10/2020. Prices are subject to change. Please check the current item price and description at
www.texaslonghorn.com/inventory
. Or contact your DCC sales representative.
Thank You for your interest!