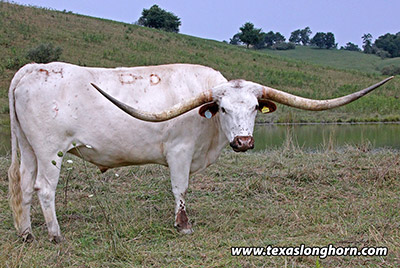 DOB:
4/20/2013
Color:
W/R Ears
Weight:
1115
(on 5/24/2016)
Horns:
99.5
(on 6/6/2019)
Grand Check He is a Rio Grande steer out of a Winchester cow. Way above championship trophy steer -- Exceptional. Horns T2T 93.75 inches on 5-31-18. He will stand out in the pasture. He is more visable in the dark than a possum. Never sleeps in church. Sells with unlimited semen collection rights. No bidding above posted price allowed.
This is a presentation of a Dickinson Cattle Co. LLC Inventory Item. This presentation was printed on 7/21/2019. Prices are subject to change. Please check the current item price and description at
www.texaslonghorn.com/inventory
. Or contact your DCC sales representative.
Thank You for your interest!