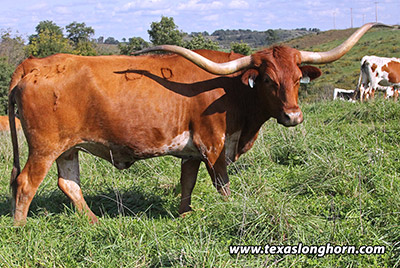 Reg.:
I-267308
DOB:
4/9/2013
Color:
R/W unln
Weight:
1095
(on 11/13/2018)
Horns:
75.38
(on 11/13/2018)
Service Sire:
Drop Box (triple bronze over 80" - 30 mo. old)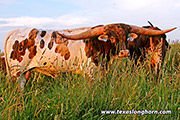 Price:
$4200

Rusty Tool A big mid 70" cow with a real value pedigree including Shadow Jubilee. She in the upper class. She is a grand daughter of Top Caliber & Tempter - two great consistent sires of 90" & more. She is big, thick, and horns twisting like a Mexican pretzel. She has future opportunities into the 90"s. Bred 5-14-18 to Drop Box, then to Non Stop. Test pos preg. Johne's test neg.
This is a presentation of a Dickinson Cattle Co. LLC Inventory Item. This presentation was printed on 2/19/2019. Prices are subject to change. Please check the current item price and description at
www.texaslonghorn.com/inventory
. Or contact your DCC sales representative.
Thank You for your interest!