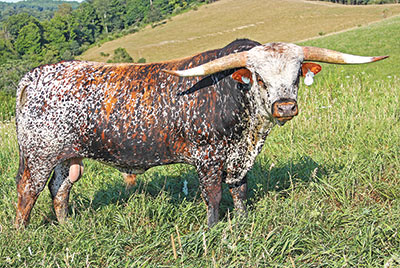 Reg.:
I-267658
DOB:
3/28/2013
Color:
W/R Spk
Weight:
1780
(on 5/24/2016)
Horns:
65.13
(on 5/24/2016)

Lots Of Flair Lots Of Flair is a 3/4 brother to Drag Iron and to date, right in the same foot steps as his World Champion relative. He is the DCC mating choice for stunning wild colors. Lots Of Flair has replaced himself with Flair Galore and has been sold to fast ball pitcher Ross Ohlendorf.
This is a presentation of a Dickinson Cattle Co. LLC Inventory Item. This presentation was printed on 8/13/2020. Prices are subject to change. Please check the current item price and description at
www.texaslonghorn.com/inventory
. Or contact your DCC sales representative.
Thank You for your interest!