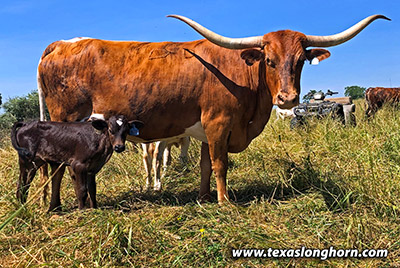 Reg.:
I-265978
DOB:
3/28/2013
Color:
R/W Unln
Weight:
1276
(on 6/23/2020)
Horns:
66.75
(on 6/23/2020)
Service Sire:
Drop Box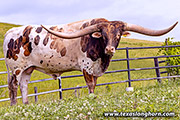 Price:
$2800

Joltie Brindling more every year. A strong 1276 lbs. Five calves in 6 years. Solid for years of service with known ancestors. Bold true black heifer born 6-20-20 to Elfego by Saddlehorn. DNA guaranteed 100% PV. She identifies as a pure Texas Longhorn cow. Service sire: Drop Box.
This is a presentation of a Dickinson Cattle Co. LLC Inventory Item. This presentation was printed on 8/13/2020. Prices are subject to change. Please check the current item price and description at
www.texaslonghorn.com/inventory
. Or contact your DCC sales representative.
Thank You for your interest!