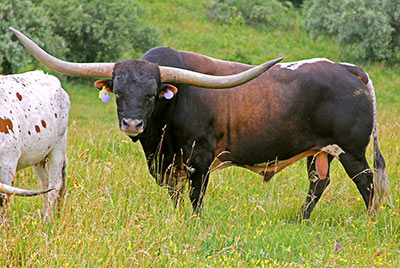 Reg.:
I-263422
DOB:
4/10/2004
Color:
Brown/w un
Weight:
1820
(on 6/7/2017)
Horns:
86.63
(on 11/8/2017)
Rodeo Max Rodeo Max - With a detailed look at his long star-filled pedigree you will find Senator, Gunman, Bail Jumper, Royal Spice, Ghost, Texas Ranger, Measles, Impressive, Roundup, Dakota Kid, Measles , Impressive, Roundup, Dakota Kid, Measles Super Ranger, Conquistador, Blue Blizzard and White Rock General. RODEO MAX is the 8th widest tip to tip, living, officially measured TL bull. He is a whopping 86.63 inches T2T. At DCCI for 4 years he is bred to cows with heavy beef conformation that are whiter than desirable color. He is one of the few TL dark colored bulls to win 11 bronze in horn measuring events. Johne's test neg. (Also well respected in Australia, Europe and New Zealand))
This is a presentation of a Dickinson Cattle Co. LLC Inventory Item. This presentation was printed on 8/13/2020. Prices are subject to change. Please check the current item price and description at
www.texaslonghorn.com/inventory
. Or contact your DCC sales representative.
Thank You for your interest!