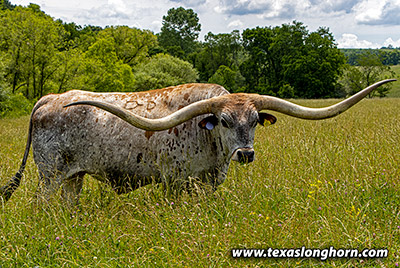 DOB:
4/10/2012
Color:
W/R spk
Weight:
1880
(on 6/8/2020)
Horns:
112.13
(on 6/8/2020)
Shot of Jubal Never during the 1880's did any Texas Longhorn Steer have the genetic potential to have this steer's horn span. Not represented as a herd sire or trained to ride after dark. Horns 110.5" T2T on 11-6-19. He is a pistol packing whopper. He will wave at the grandstand as he blows by 120 inches...be ready to wave back. President Trump and T. D. Kelsey, listen up. If you are going to feed a steer, feed one that is awesome.
This is a presentation of a Dickinson Cattle Co. LLC Inventory Item. This presentation was printed on 8/13/2020. Prices are subject to change. Please check the current item price and description at
www.texaslonghorn.com/inventory
. Or contact your DCC sales representative.
Thank You for your interest!