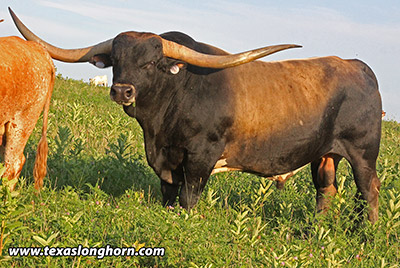 Reg.:
I-264081
DOB:
3/21/2012
Color:
seal brown
Weight:
2120
(on 6/21/2019)
Horns:
87.5
(on 3/13/2020)
Hooray This big smoky tri-color bull is 86.25" T2T. Everyone should breed at least one Jamakizm son every year. His dam is a DCC 1300 lb cow with an 86+" T2T spread. Quality is like herpies, you either have it or you don't. He is expected to do exactly what his sire did, except hopefully even more extreme. If you like big? Will be used on cows needing darkening, smok'en-up and more pounds of beef. Pounds, pounds. He is the widest horned Jamakizm son out of an upper 80's cow.
This is a presentation of a Dickinson Cattle Co. LLC Inventory Item. This presentation was printed on 8/13/2020. Prices are subject to change. Please check the current item price and description at
www.texaslonghorn.com/inventory
. Or contact your DCC sales representative.
Thank You for your interest!