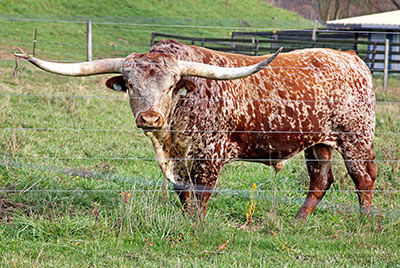 Reg.:
I-259956
DOB:
10/10/2011
Color:
W/R Spk
Weight:
1916
(on 6/16/2016)
Horns:
73.5
(on 11/15/2016)
Annex He is a DCC famous Drag Iron -- Jester blend. This connects the great Winchester and Jamakizm. His calves are mostly very speckulated from nose to tail, tiny heads and huge hips. His correctness is now being enjoyed by Tomey Farms of Indiana.
This is a presentation of a Dickinson Cattle Co. LLC Inventory Item. This presentation was printed on 8/13/2020. Prices are subject to change. Please check the current item price and description at
www.texaslonghorn.com/inventory
. Or contact your DCC sales representative.
Thank You for your interest!