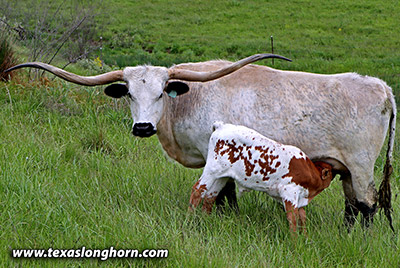 Reg.:
I-259614
DOB:
6/29/2011
Color:
W/B ears
Weight:
1145
(on 11/14/2018)
Horns:
81.5
(on 6/12/2020)
Service Sire:
Cut'n Dried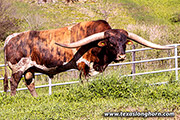 Price:
$11,000

Hung Trial Could make 91" T2T like her grand dam the famous Shadow Jubilee. You can find her in the dark. Herd sire prospect born 4-18-20 by Hooray. Just to look at her is like being washed over in a cool mountain stream of water on a hot day. Her dam became world famous in August for escaping the Colorado Springs trail drive and stampeding through a crowd of beef eaters into a bank lobby. Service sire: Cut'n Dried.
This is a presentation of a Dickinson Cattle Co. LLC Inventory Item. This presentation was printed on 8/10/2020. Prices are subject to change. Please check the current item price and description at
www.texaslonghorn.com/inventory
. Or contact your DCC sales representative.
Thank You for your interest!