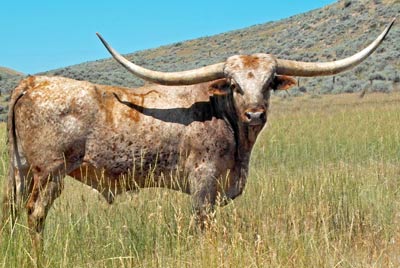 Reg.: I-249192
DOB: 1/14/2004
Color:
Top Caliber Top Caliber has ancestral connections to DCC genetics way back to Emperor, double bred Tabasco and double Dixie Hunter. His 88.25" T2T horn must be respected. His great maternal siring strength includes M Arrow Cha-Ching (94.25"T2T), Barbie's Doll (92"). Helm TC Lauras Mercy (91,125"). At DCC Top Caliber is AI bred to large beef type dark-colored females. Son, Top Hand, and many daughter's progeny are central parts of the adult DCC herd.
This is a presentation of a Dickinson Cattle Co. LLC Inventory Item. This presentation was printed on 8/13/2020. Prices are subject to change. Please check the current item price and description at
www.texaslonghorn.com/inventory
. Or contact your DCC sales representative.
Thank You for your interest!