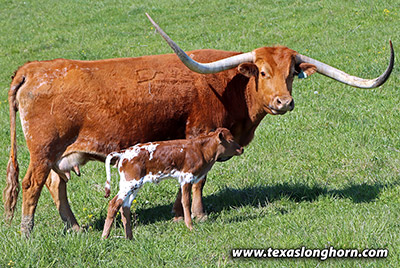 Reg.:
I-257268
DOB:
3/30/2011
Color:
R/W unln
Weight:
1242
(on 6/14/2021)
Horns:
66.63
(on 11/17/2020)
Service Sire:
Drop Box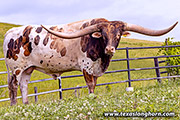 Price:
$4400

Top Suspect Another Top Caliber cow with horn going every direction. Top weight 1216. Nine calves in 9 years. No borrowed or leased bulls in her pedigree. A one owner cow. She identifies as a faithful producer with 4 daughters in the DCC permanent herd. Never wears a mask when the bull is near. Perfect udder. AI bred to Clear Win on 6-30-21, then natural to Spokesman. Test negative to Johne's. Heifer born 4-25-21 by Elfego
This is a presentation of a Dickinson Cattle Co. LLC Inventory Item. This presentation was printed on 9/22/2021. Prices are subject to change. Please check the current item price and description at
www.texaslonghorn.com/inventory
. Or contact your DCC sales representative.
Thank You for your interest!