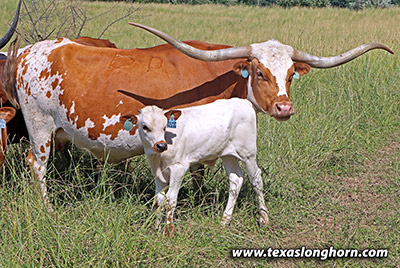 Reg.:
I-256617
DOB:
6/14/2010
Color:
R/W
Weight:
1255
(on 6/13/2018)
Horns:
77.13
(on 6/14/2021)
Service Sire:
Drop Box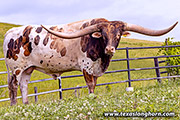 Price:
$3900

Tempting Mark A vintage Tempter daughter. Her face looks like Kamala poured milk on her head. She is dam of the beautiful Dragon Mark, one of Drag Iron's widest daughters. Perfect rescue cow - save from a horrible life of over eating. Already healthy, had all her shots. Bull calf at side born 5-6-21 by Spokesman.
This is a presentation of a Dickinson Cattle Co. LLC Inventory Item. This presentation was printed on 9/22/2021. Prices are subject to change. Please check the current item price and description at
www.texaslonghorn.com/inventory
. Or contact your DCC sales representative.
Thank You for your interest!