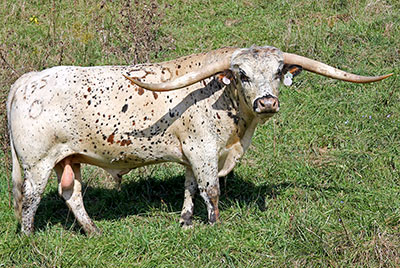 Reg.:
I-256368
DOB:
3/26/2010
Color:
W/R Brindle
Weight:
1900
(on 6/21/2019)
Horns:
81.25
(on 11/27/2019)

Tibbs This bow-horned brindle speckled son of Juma has fulfilled great promises. He has excelled over his sire and brothers. His first 100 calves have proved his story. Horns T2T 81.25 inches. Weight 1900 lbs. He is a new generation with beautifully planned genetics. Tibbs has sired the fastest gaining feed lot TL steers at DCC gaining 4.1 lbs per day. He is used on the higher horned DCC cows, Drag Iron daughters and solid red and black DCC cows. Absolutely no indolence. Now owned by Jeff Morris.
This is a presentation of a Dickinson Cattle Co. LLC Inventory Item. This presentation was printed on 8/13/2020. Prices are subject to change. Please check the current item price and description at
www.texaslonghorn.com/inventory
. Or contact your DCC sales representative.
Thank You for your interest!