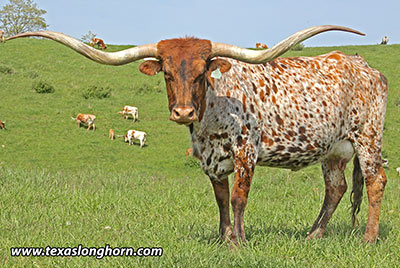 Reg.:
I-254060
DOB:
4/17/2009
Color:
R/W Spkd
Weight:
1185
(on 11/14/2018)
Horns:
87.0
(on 6/11/2020)
Sweet Kookateu This young brindle Drag Iron daughter will soon buzz by 90" then go on. She is the dam of 5 heifers and one bull retained for a herd sire. She quietly catches your eye and holds it for a steady trance. ORVTLA 2017 Sr. Grand Champion Cow. Each bull at DCC demands she colludes in his pasture, but only one will win this prize. See this one owner female at DCC.
This is a presentation of a Dickinson Cattle Co. LLC Inventory Item. This presentation was printed on 8/10/2020. Prices are subject to change. Please check the current item price and description at
www.texaslonghorn.com/inventory
. Or contact your DCC sales representative.
Thank You for your interest!