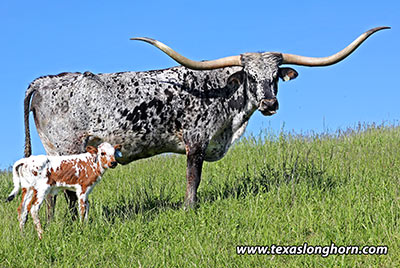 Reg.:
I-251467
DOB:
2/20/2008
Color:
W/Bk Spkld
Weight:
1220
(on 6/26/2013)
Horns:
89.5
(on 11/17/2017)
Sweet Jubilee She is one of the clones of Shadow Jubilee (91") and will soon cross the 90" mark T2T herself. She is a sweet cow who comes up to the Ranger Crew and says hello to guests. She is the natural dam of the promising Tuxedo bull and several Cowboy Tuff Chex progeny. We are honored to have owned her by the miracle of cloning.
This is a presentation of a Dickinson Cattle Co. LLC Inventory Item. This presentation was printed on 8/10/2020. Prices are subject to change. Please check the current item price and description at
www.texaslonghorn.com/inventory
. Or contact your DCC sales representative.
Thank You for your interest!