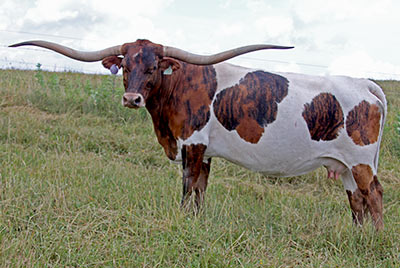 Reg.:
I-251332
DOB:
5/13/2008
Color:
White and Brindle
Weight:
1238
(on 6/12/2020)
Horns:
90.75
(on 6/12/2020)
Toss The Jam Jamakizm is one of the great sires of both bulls and females. If you don't have Jamakizm genetics, your herd is lacking. His daughtes are treasured by their owners. Her T2T was 89.63" on 6-4-19. DCCI has 29 Jamakizm cows, all of unique merit and mostly brindle.
This is a presentation of a Dickinson Cattle Co. LLC Inventory Item. This presentation was printed on 8/10/2020. Prices are subject to change. Please check the current item price and description at
www.texaslonghorn.com/inventory
. Or contact your DCC sales representative.
Thank You for your interest!