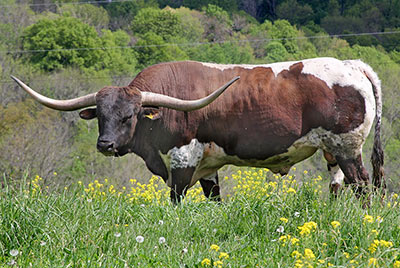 Reg.:
I-251023
DOB:
6/20/2007
Color:
R/W
Weight:
1890
(on 4/9/2013)
Horns:
78.75
(on 4/9/2013)
Jubal Jangler Jubal Jangler is the oldest son of Shadow Jubilee. He bred 2 years in Nebraska at McIntyre Ranch and 2 years at DCC. He us senior sire at Joe Dowling Ranch 4 years. His 78.75 tip to tip gives ample reason for confidence in his progeny. His sire is 80 inches and his dam was voted ULTIMATE COW at the 2010 World Show, last measured at 91 inches. Daughters of JJ are available from DCCI. JJ offers an opportunity to add the famous Shadow Jubilee genetics to historic national bloodlines. Just a small amount of semen left.
This is a presentation of a Dickinson Cattle Co. LLC Inventory Item. This presentation was printed on 8/13/2020. Prices are subject to change. Please check the current item price and description at
www.texaslonghorn.com/inventory
. Or contact your DCC sales representative.
Thank You for your interest!