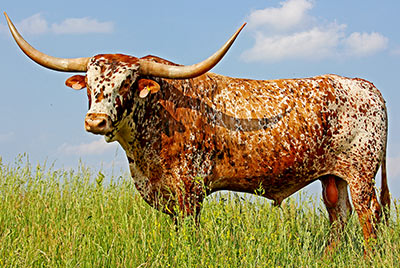 Reg.:
I-249002
DOB:
3/30/2007
Color:
R/W Spk
Weight:
1975
(on 5/23/2014)
Horns:
71.38
(on 5/23/2014)
Juma His sister Jester is 90.75" T2T and his full sister Jamaju weighs 1395 lbs with 83.75" T2T. He is bold brindle confetti with gold, white, rust and black stripes. His untanned speckled wrapper is beautifully opulent on his daughters. Any herd lacking value-color needs to add the Juma family of confetti color.
This is a presentation of a Dickinson Cattle Co. LLC Inventory Item. This presentation was printed on 8/13/2020. Prices are subject to change. Please check the current item price and description at
www.texaslonghorn.com/inventory
. Or contact your DCC sales representative.
Thank You for your interest!