Click on any listing for more information.
---
Vested Seal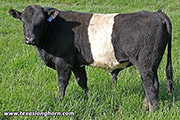 DOB:
3/31/2018;
Sire:
Slug Fest;
Dam:
Power Vest;
Color:
B/W; This young BueLingo pushes from both directions on the very low birth weight and a lively weaning weight. That is the adventure of it all. Five generations of belted beautiful cattle. Put the milk back in the cow herd.
Price: $2100
Wrap Box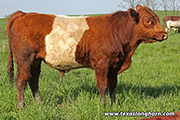 DOB:
3/31/2018;
Sire:
Progress Wrap;
Dam:
Power Box;
Color:
R/W; Just an easy calving birth weight and thick as a bureacrat's mistress. No Holstein blood here. Pure Buelingo. 27 belted ancestors out of 30. That is deep.
Price: $2200