Blem List
Click on any listing for more information.
---
Rodeo Wiz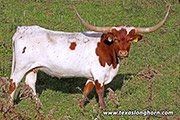 DOB:
5/17/2014;
Sire:
Rodeo Max;
Dam:
Wizard Struck;
Color:
W/R Hd; This heifer does everything right, is gentle, but enjoys going through fences to acquire multiple grass favorit flavors. She is extremely agile and athletic. Needs a home that doesn't give a flip, or has deer fences. Service sire: Time Line (see reference sires)
Price: $1500
Teunique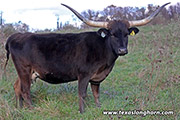 DOB:
3/24/2012;
Sire:
Winning Sky;
Dam:
Jest Over;
Color:
Brown;
Service Sire:
Drop Box (triple bronze over 80" - 30 mo. old); She is the gentlest cow at DCC. She has a bob tail.
Price: $2100