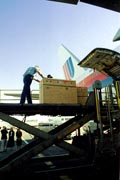 The Dickinson family is the leading producer of quality Texas Longhorn Cattle in the World. With a herd origin in 1967 more of the great herd sires have been produced at DCC than any North American Ranch. Today Dickinson Cattle Co. LLC provides a world shopping center for the unique Texas Longhorn, BueLingo, and Watusi. For a condensed history of the historic Texas Longhorn breed (Texas Longhorn Origin)

At DCC frozen semen is very economical & easy to ship world wide. Several new yyoung bulls are now approved for export. Frozen embryos can be produced on an order basis to fit health requirements of most countries.
Barnesville, Ohio, USA is the location of DCC . Joel Dickinson is the hands on manager, owner, partner, and herdsman.

Barnesville is the highest elevation of any city in Ohio. Ohio is the home of more semen collection centers than any state because of the high quality state herd health status.
DCC is easy forherd viewing, conveniently located half way between Columbus, Ohio and Pittsburg, Pennsylvania right on Interstate 70. Appointments should be made in advance for complete herd viewing and purchases.
| | |
| --- | --- |
| The climate at Barnesville is extreme with blizzards and winter snow temperature down to 25 degrees below zero. Summers can be hot and humid up to 105 degrees and over. It's a proper breeding area to develop superior cattle. All cows are calved in pastures. No cows are housed in barns for calving. | |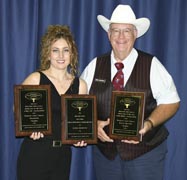 Darol Dickinson, General Manager of all DCC divisions is regarded as a superior cattleman. He has served as President of the International Texas Longhorn Association for two terms and been either vice president or an elected director for a total of 28 years for both major breed associations. Darol has judged Longhorn shows including the California State Fair, Houston Livestock show, the International Championship show at Ft. Worth, Texas, and Louisville, KY.. He is in demand as a speaker for Cattlemen's organizations. His keen eye is much of the reason for the great success of DCC over the last 38 years. Darol's ability to successfully mate genetic qualities for continuous breed improvement is unexcelled in the industry. The major show winners and leading herd sires of several breeds often carry the scientific blend genetics of DCC . More semen is processed and sold from DCC sires than all other Watusi, BueLingo, and Longhorns combined.
| | |
| --- | --- |
| The entry at DCC is clearly marked for international guest visitation. | |
| | | |
| --- | --- | --- |
| | DCC does the most extensive performance testing of any Longhorn or BueLingo program. With over 4,000 acres in use and just under 1,500 head of professionally developed cattle the very elite quality is developed in numbers. | |
| | |
| --- | --- |
| | Victory Lap is the major semen export sire. He is a vailable for shipment to most countries. His great conformation, rapid horn growth, and beautiful tri-color spot pattern allow him to be a choice "Complete Bull". |
| | Choice DCC cows are in year 'round frozen embryo production. Full blood Texas Longhorns are now in Brazil, Switzerland, Denmark, Poland, and soon to be in many new countries. Call for embryo prices and ordering procedures. |
| | Gibraltar sired by Senator is the longest total horn of any Longhorn steer of official record. (124-3/4") |
| | Sadie Sam is dam of the great bull Winchester. She was All Age ITLA International Champion Female in 2003. |
| | Champions "Over Lynn" and "Wake Up Call" ($29,500) were bred by The Dickinson family. Although the DCC genetics have dominated the USA Longhorn show system many more value traits are sought after than just the visual things that win shows. |
| | |
| --- | --- |
| Browse utilization is a world wide profit trait. Historically Texas Longhorns lived off of cactus & scrub brush in the southwestern USA. They have, as a breed, desired rough, coarse fiber even when quality grain & grass was available. This profit factor has caused many who raise Longhorns to realize a pasture can carry 4 Longhorn cows where only 3 cows of more "pampered" breeds would graze. Longhorns will travel farther to water and feed than other breeds. This trait in big pastures is of great value. It may be a value far superior to data of an EPD basis. Foraging ability is especially profitable under harsh conditions. Longhorns will forage under the most extreme weather conditions superior to all USA breeds and reproduce regularly. | |
| | |
| --- | --- |
| | When Columbus brought the first cattle to North America (17 boat loads) they were trained pulling oxen. Today the disposition of modern Texas Longhorns is mild and easy to handle. Legend and Hollywood records the wild stampedes and heroic trail drives. Although this may be correct of an untamed frontier critter, today's Longhorns have been carefully selected for good dispositions, beef characteristics, milk quality, and lean meat carcass values. |
| | |
| --- | --- |
| The International Texas Longhorn Association approves shows all over the USA for youth and adult halter classes. In 1999 so many producers are pulling and riding steers that six performance classes are added to the new rule book. | |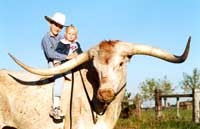 Disposition is continuously part of the genetic selection process.